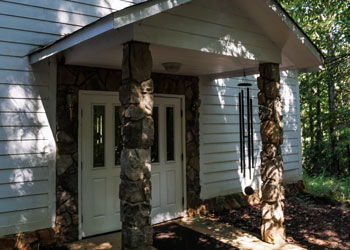 Learn More
Shalom Center
Our treatment center is the first step in the recovery process.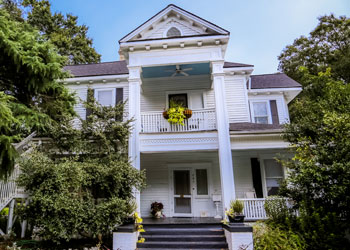 Learn More
Shalom House
Shalom House provides a safe, stable environment for long-term addiction recovery.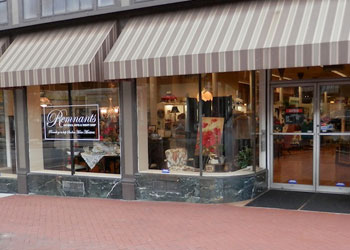 Learn More
Remnants Antiques & Gifts
Our shop in downtown Anderson provides job skills to recovering addicts and antiques to the community.
My wife graduated from Shalom in April 2013. Shalom is a vessel in which Christ Jesus works, and through them my family has been restored to a place of supreme happiness. While my wife was receiving the tools she needed in Christ Jesus, I was receiving a better understanding of drug addiction in the family meetings offered at Shalom. Praise God for Shalom and the healing He truly delivers through their program.

Jody Gibson

United Way of Anderson County is about creating an environment that encourages self-sufficiency, and we are happy to partner with the Shalom House in their quest to help women break the bonds of addiction to live productive lives.

Carol Burdette, President and Chief Professional Officer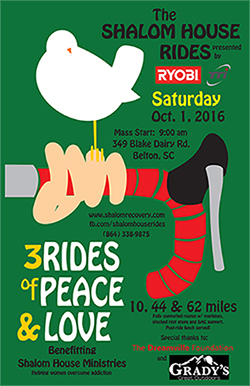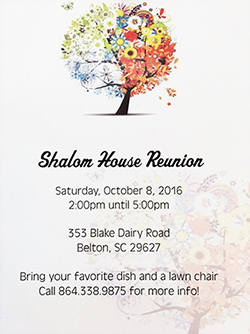 Recovery is possible...just ask these graduates of our program:
Read More
Meet Heather
Hi, I'm Heather and I'm a grateful recovering alcoholic.
I began drinking when I was 17 years old. I quickly discovered that I gained confidence in myself. I was no longer the awkward shy girl. By the time I was 21, my life was quickly spiraling out of control. I turned to alcohol to ease stress and pain. I drank more to try and drown out the shame of who I had become. I believed in God. I knew He loved all of His children, but I could not understand why He could possibly love someone as worthless as me. Why would He love me? I didn't love me....
Read More of Heather's Story
Read More
Meet Cheri
I entered Shalom Center in January 2009. I'd been an addict for almost 20 years. Because of the choices I made through my addiction, I lost everything; jobs, house, friends, and eventually even my children. As my drug use escalated, so did my jail trips, even to the point of being sent to prison.
I knew this isn't how I wanted to spend the rest of my life, but I didn't know where to turn, or even how to live a sober life. I only knew I couldn't do it alone.
Read More of Cheri's Story.